---
To print: Select File and then Print from your browser's menu.

This story was printed from Daily Nebraskan.
Site URL: http://www.dailynebraskan.com/.
---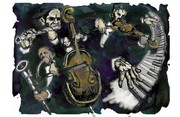 Scott Eastman/DN


Live music premiers under the stars

By Elizabeth Polles
March 06, 2002

This Friday, a chamber orchestra will perform under the stars.

Mueller planetarium will be the unlikely venue for a chamber orchestra made up mostly of University of Nebraska-Lincoln music majors and conducted by Ben Carlisle, UNL music graduate student.

All the music was composed by astronomers, including UNL astronomer Martin Gaskell.

In addition to the stars, photographs and abstract images will be projected on the ceiling of the planetarium.

The orchestra will play two symphonies by William Herschel, an 18th century English astronomer who was extremely important in his field.

Herschel discovered, among many other things, the planet Uranus and the shape of the Milky Way.

Gaskell said Herschel probably was the greatest observational astronomer of all time.

Carlisle said Herschel's symphonies probably had not been performed since the 1760s.

He said the audience for Friday's show could expect to be impressed with the musicians and the experience of a live classical music concert.

A live performance, Carlisle said, created a sense of suspense because of the possibility that something could go wrong.

"I think that for anything, you can't beat the experience of having the music live," he said.

"Even if you have the best sound system in the world, it's not going to have the same emotional connection as having live musicians there," Carlisle said.

The orchestra will be playing with very little light so it doesn't reflect on the images on the ceiling, he said.

Mueller Planetarium Coordinator Jack Dunn said the planetarium had played host to a "space music" keyboard concert before, but that this was its first live music performance.

He said this was the first he had heard of a planetarium showcasing musical works by astronomers.

Gaskell said he had been composing music since high school.

He described the pieces that will be performed on Friday, "Song of the Night" and "Romance," as romantic and melodic.

Gaskell said he wrote "Romance" while he was in graduate school as an engagement present for a friend.

The inspiration for "Song of the Night," he said, was the feelings one gets when one is alone outside at night.

"I believe that what music conveys is emotions," Gaskell said.

The performance will also feature the song "Summer Rain" by Russian astronomer Valya Doroshenko, which is a vocal piece.

Doroshenko's husband composed the words to "Summer Rain," which will be sung in Russian.

Dunn said Doroshenko wrote the piece by candlelight in an observatory because the power had been cut off.

"Music of the Stars" will be performed Friday at 7:30 p.m. and Saturday at 3 p.m. in Mueller Planetarium in Morrill Hall. Tickets are on sale now for $3 each at the Morrill Hall front desk.

---